'Special inspection' underway at Turkey Point because of cooling system failure and 'potential generic concern'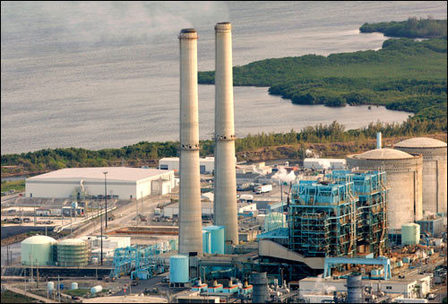 NRC BEGINS SPECIAL INSPECTION AT TURKEY POINT NUCLEAR POWER PLANT, U.S. NUCLEAR REGULATORY COMMISSION Office of Public Affairs, Region II, August 16, 2011:
The Nuclear Regulatory Commission staff began a special inspection at FPL's Turkey Point nuclear power plant today to assess the circumstances surrounding the brief loss of the intake cooling water function at one of the plant's two nuclear units.
On Aug. 11, Turkey Point Unit 3 lost the function of the intake cooling water system for about 20 minutes when an open valve closed and then failed in that closed position. The intake cooling water system provides cooling to important plant equipment. The NRC staff determined that because the failure resulted in the loss of a safety system and because there is also a potential generic concern, a special inspection was appropriate.
The on-site portion of the inspection will be completed this week, and a report documenting the results should be issued within 45 days of the completion of the inspection.
Turkey Point Nuclear Generating Station is a twin reactor nuclear power station located on a 3,300-acre (13 km⊃2;) site 2 miles east of Homestead, Florida, United States, next to Biscayne National Park located about 25 miles (40 kilometers) south of Miami, Florida near the southernmost edge of Miami-Dade County.
In 2002, the Nuclear Regulatory Commission (NRC) extended the operating licenses for both nuclear reactors from forty years to sixty.
In 2006, FPL informed the NRC that they planned to apply for new units to be built at Turkey Point.
On May 8, 1974, a test was performed on all three of the Emergency Feedwater (EFW) pumps serving Unit 3 while the reactor was operating at power. Two of the pumps failed to start as a result of over-tightened packing. The third pump failed to start because of a malfunction in the turbine regulating valve pneumatic controller. (ref NRC LER 250/74-LTR) In an on-going study (ref NRC Commission Document SECY-05-0192 Attachment 2 NRC.gov) of precursors that could lead to a nuclear accident if additional failures were to have occurred, the NRC concluded (as of 24-Oct-2005) that this event at Turkey Point Unit 3 was the fifth highest ranked occurrence.
In 1992, Turkey Point was directly hit by Hurricane Andrew, causing damage to a water tank and to a smokestack of one of the site's fossil-fueled units.
On February 26, 2008, both reactors were shut down due to the loss of off-site power during a widespread power outage in South Florida, affecting 700,000 customers.
David Hoffman, a nuclear supervisor at Turkey Point, resigned over the incident and was subsequently sued for by Florida Power and Light for return of a bonus. Hoffman countersued, claiming he was pressured to restart the reactors while they were in a condition which in his judgement made it unsafe to do so. Upper management wanted the reactors restarted during xenon dead time, which would have caused the operators at the controls to continuously step control rods to safely manage reactor output.
from